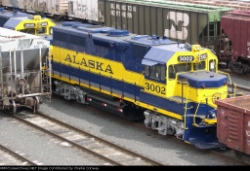 Welcome to the RRPictureArchives.NET contributor site of Charlie Conway.



I've recently returned to Seattle after more than a decade, and I am enjoying afternoons and weekends renewing my acquaintance with the local train watching spots. When I left the area, Rocky was still a frequent, if faded, sight on freight cars, but I haven't seen a single goat since I've been back in town. UP locomotives look much as they always have, but the BNSF fleet is an interesting and colorful mix of paint schemes, old and new. I've also spied a few strays from the East and the Great White North. I look forward to sharing some of my photos with you. Cheers!



You may browse my collection of pictures via the menu located on the left hand side of the page. I hope you enjoy the collection and thanks for stopping by!
Note: This site is best viewed in Internet Explorer 6.0 or above.
Select one of the links from the menu on the left to begin browsing the collection.